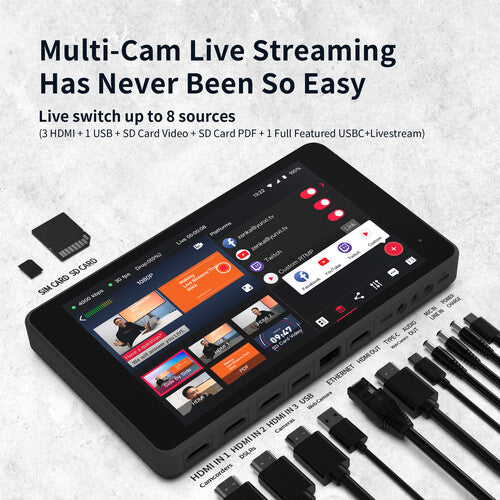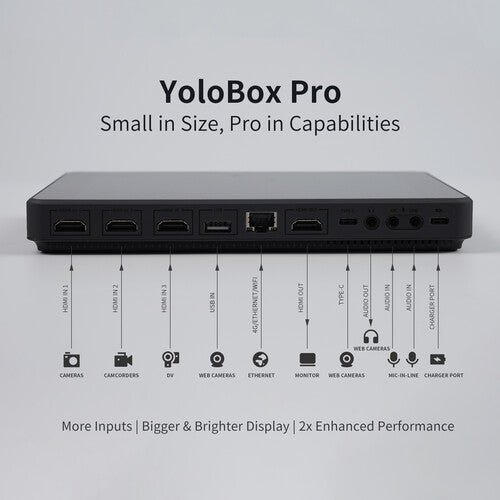 YoloLiv YoloBox Pro Portable Multi-Camera Encoder/Streamer, Switcher/Monitor & Recorder
by shuttermaster.com.ph
Product Highlights
Simultaneous Cross-Platform Streaming
Encoder, Monitor, Switcher, and Recorder
8" Touchscreen Control LCD Display
Live Switch from up to 8 Sources
3 x HDMI & 1 x USB Inputs
Supports H.264/MP4 up to 1080p Video
Stream via Ethernet, Wi-Fi, 4G LTE
1 x SD Card Slot for Record, up to 128GB
HDCP Compliant, Audio & Mic Input
400 cd/m² Brightness, Built-In Battery


Wireless
Wi-Fi: 2.4/5 GHz
Cellular
SIM Card Slots: 1 x nano SIM
4G LTE: LTE: 1, 2, 3, 4, 5, 7, 8, 12, 13, 14, 17, 20, 25, 26, 28, 38, 39, 40, 41, 66, 71 Bands
Interfaces

Video Connectors:
3 x HDMI Input
1 x HDMI Output

Audio Connectors:
1 x
1/8" / 3.5 mm TRRS Headphone/Microphone Stereo Analog
1 x
1/8" / 3.5 mm TRRS Headphone/Microphone Mono Analog Input
1 x
1/8" / 3.5 mm TRRS Headphone/Microphone Stereo Analog Output
Other I/O:
1 x
RJ45 10/100 Ethernet Input/Output
1 x
USB Type-A USB 3.1 Gen 1 Input
1 x
USB Type-C USB 3.1 Gen 1 Input/Output
Internal Recording
Recording Media: 1 x SD (Unspecified Type)
Power
Built-In Battery: 10,000 mAh
Power Connector: 1 x USB Type-C Input


Create a live stream production from anywhere with the ultra-portable YoloBox Pro Portable Multi-Camera Encoder/Streamer, Switcher/Monitor & Recorder from YoloLiv. The YoloBox Pro can simultaneously broadcast up to three video streams via Wi-Fi, RJ45 Ethernet, or via 4G LTE with a separately available SIM card and subscription. The YoloBox Pro features multiple updates from the original YoloBox, including HDCP compliance, both mic and line analog audio inputs, a USB input, three HDMI inputs, a Qualcomm 660 encoder/processor, a high-capacity 10,000mAh internal battery, and a larger 8" LCD touchscreen display with 400 cd/m² brightness.
The YoloBox Pro allows you to connect and live switch up to 8 video sources, and then connect to a local area network via Wi-Fi, Ethernet, or LTE (LTE connection requires SIM card and data plan not included). The large 8" touchscreen display shows the streaming image, the input streams as well as the control interface, which allows you to switch between the info sources with a touch. It also features an HDMI output to display your stream locally on an optional HDMI display. It also has a line-level audio input, a mic-level audio input, and a discrete headphone audio out.

The YoloBox Pro supports input resolutions ranging up to 1080p using the H.264 codec, and you can stream resolutions from 540p to 1080p to YouTube, Twitch, and other streaming services via custom RTMP presets. Stream to the Internet using a 4G cellular network such as Verizon, T-Mobile, and AT&T, using a separately available nano-size SIM card and a separately available data plan. You can record your stream directly in .mp4 format to an optional SD card with up to 128 GB capacity using the built-in SD card slot.