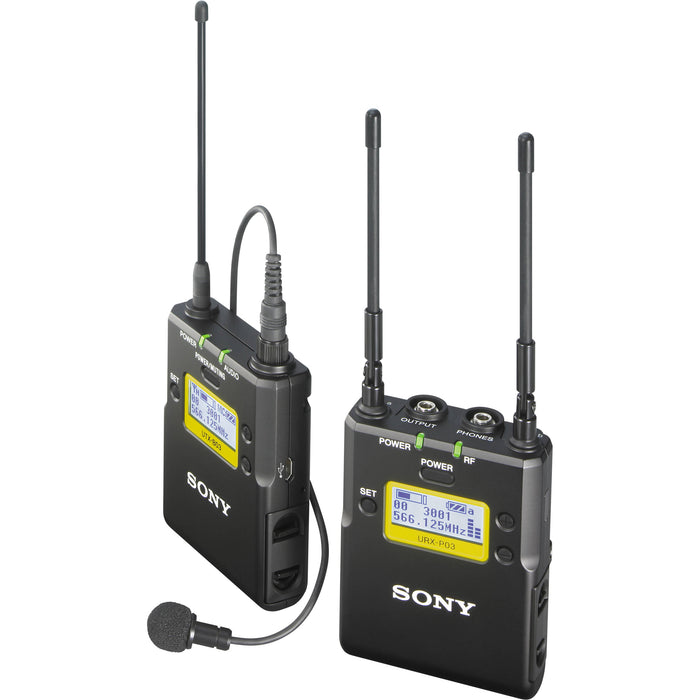 Sony UWP-D11 Integrated Digital Wireless Bodypack Lavalier Microphone System
by shuttermaster.com.ph
Key Features:
For Professional Videographer/Journalist
ECM-V1BMP Omnidirectional Lav Mic
Rugged Bodypack Transmitter
True-Diversity Camera-Mount Receiver
The Sony UWP-D11 Camera-Mount Wireless Omni Lavalier Microphone System provides filmmakers, videographers, and journalists with a professional wireless system featuring digital audio processing for pristine sound and analog UHF transmission with true-diversity reception for reliability—even under difficult shooting conditions.
The system offers a winning combination of trustworthy performance, ease of use, flexible control, and an 18 MHz bandwidth with 654 frequency options in the 900 MHz band—away from TV interference—for clean, broadcast-quality audio. You can operate up to 14 mics in one location.
The UWP-D11 includes a camera-mount receiver and a bodypack transmitter with an ECM-V1BMP omnidirectional lavalier mic. It connects to a camcorder or a DSLR/mirrorless camera to capture natural-sounding speech or dialog for projects ranging from field-based news productions and hands-free interviews to wedding videos, sports events, and documentaries.
A Rugged Build, Ready for the Camera
The UWP-D11 features a robust, all-metal construction well suited for tough operating conditions.
The compact bodypack transmitter is lightweight and comfortable for the talent to wear. A locking, 3.5mm BMP-type microphone input connector ensures that your lav doesn't detach at a critical moment. A quick press on the power button allows you to mute your mic.
Using the included shoemount adapter, the compact receiver easily mounts on your camera, while adding minimal weight to your rig. Cables are included to connect to cameras equipped with either a 3.5mm or an XLR audio input. Alternatively, the MI—Multi Interface—shoe on select Sony cameras can serve as a cable-free audio connection using the SMAD-P3 shoe adapter (available separately).
If your camera doesn't have a headphone jack, you can monitor your sound via the receiver's headphone output while recording.
Large, daylight-readable displays on both the transmitter and receiver show reception quality, battery status, and audio level.
Fast and Flexible
The easy-to-navigate menu allows for secure and speedy settings.
With Auto Set enabled, simply power up the components and the Clear Channel Scan function automatically searches for the cleanest frequency at your location. The system then synchronizes the transmitter and receiver via IR Sync with no additional action required—saving you valuable set up time in the field.
The RF output level on the transmitter has two settings: the 5mW option allows you to conserve battery life, while the 30mW setting gives you more power to overcome interference, great in busy RF environments.
The transmitter input is switchable between mic and line level, and offers adjustable attenuators so you can set the ideal gain level for your sound source.
The receiver provides a variable output level control of ±12 dB, so you can optimize it for the input level of a camcorder or DSLR/mirrorless camera, reducing the self-noise that incurs from turning up the camera gain.
Reliable Reception with True Diversity
To achieve stable audio, the UWP-D receiver employs true-diversity technology with two antennas and two independent receiver sections within the unit. Both RF signals are compared, and the stronger signal is automatically selected for output—reducing dropouts to a minimum.
The angle of the two antennas can also be adjusted, which helps to further prevent signal dropouts.
Professional Sound with Digital Audio Processing
Unlike a traditional analog system, The UWP-D supplements its proven analog UHF transmission technology with a proprietary digital audio processing. Transient sounds and consonants are reproduced with greater accuracy, resulting in clear, natural sound that's intelligible and nuanced.
The ECM-V1BMP lavalier mic is optimized for capturing news in the field. This omnidirectional mic picks up sound from every direction, allowing for a variety of placement options and freedom of movement.
With this set, you can add the UTX-M03 handheld wireless mic with cardioid capsule, ideal in situations where you don't have time to position a lavalier mic or you need to quickly pass the mic between several people.
Adding the UTX-P03 plug-on transmitter with 48V phantom allows you to connect any handheld microphone of your choice for man-on-the-street-style interviews, or a shotgun mic for wireless booming.
For clearer speech in noisy environments, you can substitute the included lav mic with an ECM-322BMP headset mic.
Multiple Powering Options
The receiver and transmitter can be powered via two AA batteries for up to 6 hours of shooting time.
The transmitter and receiver can also be powered through their USB ports, allowing them to run for numerous hours on a USB power pack or indefinitely, if you have access to AC.
The USB ports can also recharge Ni-MH batteries (available separately) while in use.
With the SMAD-P3 shoe adapter (available separately) the wireless receiver can get power directly from select Sony cameras.
Cartridge-type battery cases allow for quick battery replacement on set.
Compatibility with Other Sony Wireless Systems
UWP-D Series transmitters and receivers can also be used with WL-800 Series receivers and transmitters.