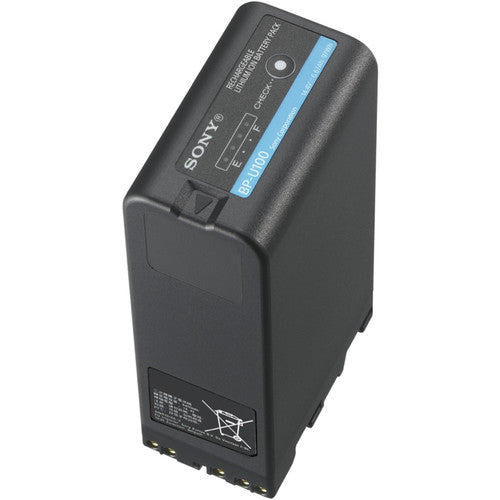 Sony BP-U100 Lithium-Ion Battery Pack
by shuttermaster.com.ph
Key Features:
Mount / Series Type: Sony BP-U Series
Chemistry: Lithium-Ion
Battery Capacity: 97 Wh
Output Voltage: 14.4 VDC
Weight: 22.75 oz / 645 g
4-LED Gauge
For Select Sony Camcorders (please see below)
The Sony BP-U100 is a high-performance 97Wh lithium-ion battery compatible with select Sony professional video cameras, such as the FS7 (see below). It's designed to communicate status data to the camera, and remaining capacity is displayed on the camera's viewfinder. This battery is rechargeable in approximately 210 minutes using the optional BC-U1A/U2A charger. A 4-LED gauge displays remaining capacity as 20, 40, 60, and 80%.
PXW-FS7M2
PXW-FS7
PXW-FS5M2
PXW-FS5
PXW-X160
PXW-X180
PXW-X200
PXW-Z190
PXW-Z280
PMW-300K1
FX6