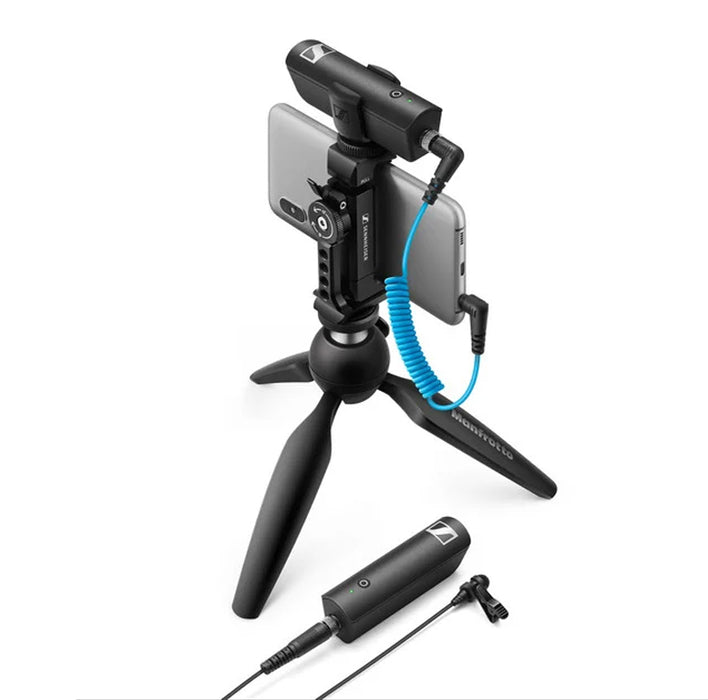 Sennheiser XSW-D Portable Lav Mobile Kit
by shuttermaster.com.ph
For Mobile Vlogging
ME 2-II Omnidirectional Lav Mic
Miniature Bodypack Transmitter
Miniature Camera-Mount Receiver
Manfrotto PIXI Mini Tripod & Grip
Smartphone Clamp with Cold Shoe Mount
Designed for vloggers and content creators on the move, the XSW-D Portable Lav Mobile Kit includes Sennheiser's XSW-D Portable Lavalier Set and Smartphone Clamp, as well as the Manfrotto PIXI Mini Tripod. The XSW-D Portable Lavalier Set features a complete 2.4 GHz wireless lavalier system while the Smartphone Clamp allows for both portrait and landscape orientation. The Manfrotto PIXI features a locking ball head which can be adjusted with the push of a button so you can dial in your frame with ease.
The XSW-D Portable Lav Mobile Kit combines functionality with efficiency for the ultimate vlogging experience. Upgrade your audio and your video with these three essential tools.
The XSW-D Portable Lavalier Set includes a one-touch ease-of-use wireless audio system that utilizes a digital transmission to seamlessly link audio sources. Equipped with our ME2-II omnidirectional lavalier microphone, this elegant solution makes capturing dialogue on a DSLR/M easier than ever before while maintaining a reliable connection.
The Smartphone Clamp is made from solid aluminum and features soft rubber grips that provide a secure fit for nearly all mobile phones. A 180-degree locking dial allows for portrait or landscape positioning so you can switch from one aspect ratio to another with ease.
The Manfrotto PIXI is a durably constructed lightweight mini tripod that features a ball-joint head with a push-button locking mechanism that enables you to position and lock the ball head in one fluid, intuitive motion. Rubber feet ensure a slip-free grip on most surfaces and collapsible legs allow for convenient handheld vlogging that adds stability to your videos.
For creators that are looking for a great mobile solution, the XSW-D Portable Lav Mobile Kit provides the right set of tools to elevate your content.
In the Box
Sennheiser XSW-D Portable Lav Mobile Kit with Transmitter, Receiver, Lapel Mic, Mounts & Manfrotto PIXI Tabletop Stand