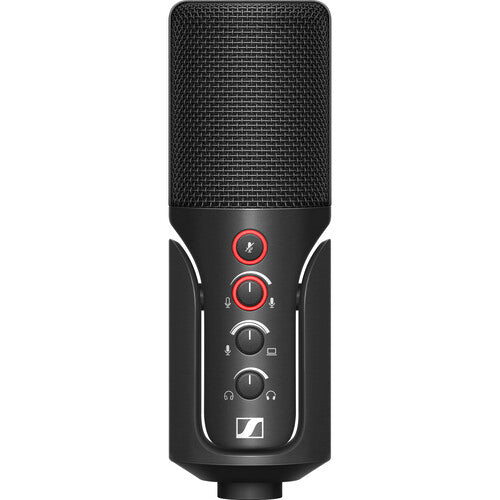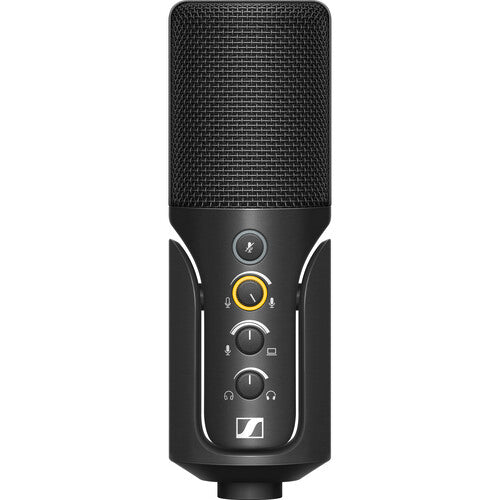 Sennheiser Profile USB Condenser Microphone Streaming Set with Boom Arm
by shuttermaster.com.ph
USB Mic with Accessories for Streaming
Cardioid Pickup Pattern
Adjustable Tilt Function, Locking Joint
Mute Button with LED Ring
Gain Control with LED Ring
Onboard Mix Control
3.5mm Headphone Out with Level Control
Robust Metal Housing
3-Point Locking Boom Arm, Cable Guides
Includes Pouch and USB-C Cable (9.8')
With fully featured onboard controls and a rugged metal housing, the Profile USB Microphone Streaming Set from Sennheiser will elevate your podcasting, gaming, streaming, conferencing, and home recording experience. This all-in-one collection bundles the versatile Profile USB condenser microphone with a flexible 3-point self-locking boom arm and a USB-C cable, so you can start creating killer content right away.
The Profile USB mic sports loads of hands-on controls including a mute button, gain control, mix control for balancing microphone and device levels, and a 3.5mm headphone output with a dedicated level control as well as LED ring lights for indicating when the mute is engaged or when your audio is clipping. The mic also features a cardioid pickup pattern for isolating your voice from unwanted ambient sounds to the sides and rear as well as a tilt function with a self-locking joint for optimal positioning. The included broadcast-style boom arm utilizes convenient cable guides for managing your USB-C cord and maintaining a neat and tidy appearance during your streams.
Sennheiser Boom Arm for Profile Streaming Set
This Boom Arm from Sennheiser is a flexible utility designed for use with the Profile USB Microphone, but compatible with many broadcast-style mics. This boom arm sports a sturdy C-clamp for a reliable attachment to desktops and related surfaces and is ideal for a range of applications including podcasting, streaming, gaming, content creation, and music production.
The Boom Arm features three points of adjustment with a self-locking mechanism for highly versatile positioning. Convenient cable guides make it easier to route and organize your USB-C cable around the arm, providing a neat and tidy presentation for your streams.
Sennheiser USB-C Cable (9.8')
The 9.8' USB-C Cable from Sennheiser delivers the modern specs of USB-C in reliable Sennheiser fashion. This cable is included in the Profile Streaming Set but is offered here in standalone form for expanding your streaming setups or replacing a lost cable.
This black cable sports USB-C male connectors on both ends and, like all USB-C cables, rotational symmetry that allows it to be plugged in regardless of which side faces upward.