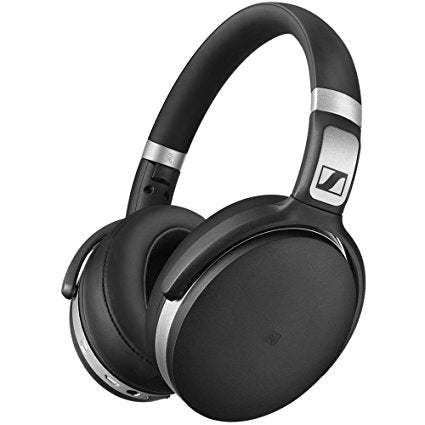 Sennheiser hd 4.50 BTNC Bluetooth Wireless Headphones with Active Noise Cancellation
by shuttermaster.com.ph
Application: for Travel
The new closed-back Sennheiser HD 4.50 BTNC headset delivers everything required by a music aficionado with an active lifestyle. There's the stunning Sennheiser sound and the latest wireless technology, all crafted in an elegantly minimal yet robust design, made from the highest-quality materials. But most of all, Sennheiser's NoiseGard™ active noise cancellation lets you enjoy your music in peace – everywhere. Article No. 506783
The Sennheiser HD 4 Series – Let everyday sound great
Take your music with you, anywhere. Versatile and vibrant, the new HD 4 series comprises the complete Sennheiser quality package in a range of durable, closed-back, over-ear headsets that redefine the quality of sound.
Add the legendary Sennheiser sound to your everyday routine, and power your life with music.
HD 4.50 BTNC
Music lovers demanded the highest-quality sound experience, on the go―and we listened. Our new headset features NoiseGard™ active noise cancellation, giving you the power to eliminate any noise that comes between you and your music. Complete with the stunning, high-definition Sennheiser sound, the headset you've been asking for is the HD 4.50 BTNC.
Enjoy your musical freedom, unwired and undisturbed. Everywhere. Every day.
Your music. Nothing else.
With the HD 4.50 BTNC, you can enjoy your music and nothing else. Period. The noisy world around you is shut out by NoiseGard™, the active noise cancellation technology developed by Sennheiser. Just turn on, sit back, and indulge in the refined sound of this powerful closed-back headset: Rich details, vivid, powerful bass, soaring highs, all delivered by proprietary Sennheiser drivers.
Great sound. No strings attached.
The HD 4.50 BTNC is all about freedom, so there's no cable. Instead, you can pair your compatible device in a flash, using Near Field Communication (NFC) technology. The headset is built with state-of-the-art wireless technology and audio codec for reliable transmission. The wireless Hi-Fi sound is so good you'll need to hear it to believe it.
Simple never sounded this good
Everything about the HD 4.50 BTNC feels natural. Just touch the ear-cup mounted controls and you'll know what we mean. With its integrated microphones you can make and receive calls, change tracks, or adjust the volume in a breeze.
Comfort on the go
The streetwise HD 4.50 BTNC combines supreme comfort and sound quality you can take anywhere. With its around-ear design and deep, ergonomic ear pads, you can enjoy long listening sessions in total luxury. And when you're not on the move, just fold the headset into its protective case.
The joy of a long-lasting battery
Real adventures happen far away from power outlets. Fortunately, the HD 4.50 BTNC has a powerful battery that lets you enjoy music for up to 25 hours so you can focus more on your experience.
Timeless design
When Sennheiser develops a premium headset like the HD 4.50 BTNC, we build it to last. Our designers went to the drawing board to create a look that will last. We chose elegant, strong lines, and fashioned its sleek frame from highly-curated, robust materials that speak to the quality within. The HD 4.50 BTNC is built to stand the test of time.
Technical Data
Impedance

18 Ω

 

Frequency response (Microphone)

100 - 10,000 Hz

 

Frequency response

18 - 22,000 Hz

 

Sound pressure level (SPL)

113dB (Passive: 1kHz/1Vrms)

 

THD, total harmonic distortion

<0.5% (1kHz/100dB)

 

Pick-up pattern

Dual omnidirectional microphones

 

Battery Specification

Li-ion Polymer Battery

 

Codecs

AptX