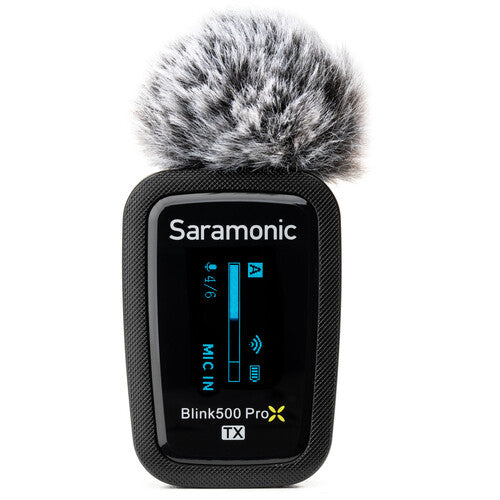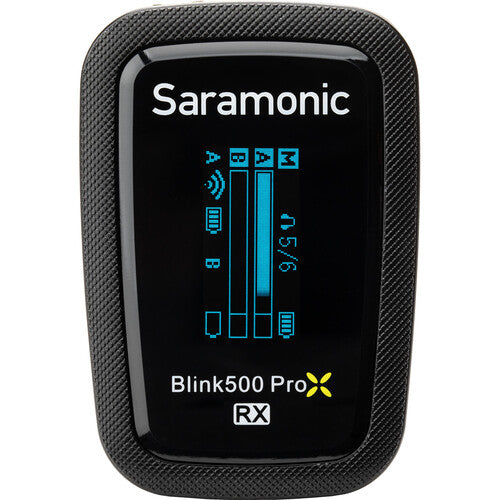 Saramonic Blink 500 ProX B2 2-Person Digital Camera-Mount Wireless Omni Lavalier Microphone System (Black, 2.4 GHz)
by shuttermaster.com.ph
Key Features:
Content Creators, Vlogs, Live Streaming
2 x Compact Clip-On Transmitter/Mics
2 x Omnidirectional Lavalier Mics
Compact Dual-Channel Receiver
Separate 3.5mm Main & Headphone Outputs
Easy to Use, Informative OLED Screens
Mute Function, Mono/Stereo Output Mode
Internal 10-Hour Batteries
Charging Case with 35 Hours of Power
18 Systems at Once Max, up to 328' Range
built-in omnidirectional microphone
with 3.5mm Mic Inputs
included clip-on omni lavalier microphones with windshields
Ideal for content creators, videographers, journalists, vloggers, podcasters, and live streaming, the black Saramonic Blink 500 ProX B2 is a true-wireless, digital microphone system that offers a complete, cost-effective solution for recording clear-sounding dialog, interviews, and speech with two people talking simultaneously—directly to a mirrorless/DSLR camera, recorder, mixer, and other 3.5mm-input devices. The Blink 500 ProX is the next generation of the popular Blink 500 Pro system. It serves up some notable improvements, including higher digital-audio quality, smaller and lighter, updated design, lower latency/voice delay, more wireless reliability, upgraded OLED displays with real-time metering, longer battery life, and more.
The Blink 500 ProX B2 consists of two compact clip-on transmitters, each with its own built-in omnidirectional microphone, allowing you to quickly attach them to subjects for fast, run-and-gun-style shoots. For a more discreet look, you can plug the two included omni lavalier microphones with windshields into the transmitters' 3.5mm input jacks. The tiny two-channel receiver features a 3.5mm output connection for camera use and a headphone jack to monitor your audio in real time. Camera mounting is made easy by the receiver's clip, which easily attaches to your camera shoe.
The system provides out-of-the-box operability for anyone (thanks to quick, one-click pairing) and delivers reliable transmission with a clear sound at a distance up to 328'. Built-in rechargeable batteries provide up to 10 hours of operation on the transmitters and receiver. Recharging the batteries can be done via USB or by simply dropping the transmitters and receiver into the supplied fast-charging case.
Blink 500 Pro vs Blink 500 ProX
Smaller and lighter updated design
Advanced next-generation 2.4 GHz wireless
Higher-resolution, 16-bit / 48 kHz digital audio
Wider 20 Hz to 20 kHz frequency response
Less latency at ≤8ms
Higher signal-to-noise ratio at ≥84 dB 
Longer battery life at 10 hours on a full charge
Upgraded OLED displays with real-time metering
USB-C charging on transmitter and receiver
Charging case with 2000mAh internal battery can charge the system up to 2.5 times, for up to 35 hours of power on the go
Unpacking the Blink 500 ProX B2
Use each ultracompact clip-on transmitter as a true wireless microphone with its built-in mic element or as a bodypack transmitter with its supplied lavalier microphone.
The ultracompact dual-channel receiver features an integrated clip with a shoe mount for flexible placement on you or your camera. A 3.5mm TRS audio cable is provided to ensure proper hookup to a camera or recorder.
Simply power on the receiver and transmitters and use one-click pairing to access reliable wireless audio functionality in an instant.
Drop the receiver and transmitters in the supplied fast-charging case to conveniently recharge their internal batteries and view real-time charging status on their OLED screens.
With the receiver and transmitters easily paired at the click of a button, the Blink 500 ProX system is comfortably easy to use by anyone, anywhere. Videographers, vloggers, YouTubers, and mobile journalists will benefit from the Blink 500 Pro's power-and-go operating style.
The transmitter's 3.5mm input can accept mic- or line-level signals, making it fully capable of accommodating a variety of external sources such as a lavalier microphone or an audio feed from a mixer or receiver.
Advanced technology invisibly handles the complicated tasks such as switching channels to avoid dropouts, leaving you with a streamlined and simple system that requires no tedious manual configuration.
Blink 500 ProX systems utilize 16-bit / 48 kHz digital audio resolution to give you quality sound at a budget-friendly price point.
Compared to the built-in microphones on cameras and mobile devices, Blink 500 ProX systems offer considerably improved fidelity and clarity with less noise.
Since your subjects may speak at very different volumes, Saramonic outfitted the Blink 500 ProX TX with dedicated gain buttons to allow quick and effortless adjustment of the signal level.
Utilize the tactile mute function to cut the signal in a hurry without having to adjust the volume.
Knowing that camera preamps are often noisy, the Blink 500 ProX RX's main 3.5mm output sends an adjustable mic-level signal, so you won't have to crank the gain at your camera.
With a separate 3.5mm headphone port, the Blink 500 ProX RX can simultaneously drive headphones for quick monitor checks and troubleshooting.
The receiver features a selectable mono/stereo output mode, allowing it to appropriately feed signal from one transmitter into both input channels of your device (via mono mode) or from two transmitters into separate input channels of your device (via stereo mode).
Perfect for 1- or 2-Person Shoots
Since the Blink 500 ProX RX is a dual-channel receiver, it can simultaneously handle both Blink 500 ProX TX wireless transmitters.
If you need to expand beyond that, you can use up to 18 Blink 500 ProX microphones at once.
Built-In Microphone for True Wireless Operation
The Blink 500 ProX TX features a built-in miniature condenser microphone with an omnidirectional pickup pattern that captures clear and natural voice tonality.
Thanks to the transmitter's ultracompact housing, you can clip it to clothing, slide it into a shirt pocket, place it on a podium, or hold it in your hand. 
A furry, press-on windscreen is included to protect the built-in mic from wind noise when shooting outdoors.
Omnidirectional Lavalier Microphone Included
For maximum visual discretion, use the Blink 500 ProX TX as traditional bodypack transmitter with the supplied lavalier microphone. Just clip the omnidirectional lavalier microphone to a collar or lapel, then plug it into the transmitter's 3.5mm input; the transmitter automatically switches to the external microphone, so you don't have to bother selecting the input source.
The lavalier mic includes a foam windscreen that lessens noise caused by light wind, breaths, and air conditioning systems. For enhanced reduction of stronger wind noise, a separately available furry windshield (or windjammer, such as the Saramonic LM-WS) can be fitted to the microphone.
Stable and Simple 2.4 GHz Digital Wireless
Whereas typical analog wireless systems are susceptible to interference from TV and radio waves, the Blink 500 ProX digital system avoids that by operating in the 2.4 GHz band, which occupies frequencies beyond those of television, radio transmissions, and UHF wireless microphone systems.
Within the 2.4 GHz spectrum, the Blink 500 ProX boasts automatic channel hopping to mitigate noise and dropouts at a line-of-sight distance of up to 328 feet, double the maximum distance of the standard Blink 500. For optimal performance, environments with limited Wi-Fi / 2.4 GHz traffic and minimal physical obstructions are recommended.
Each Blink 500 ProX transmitter and receiver is outfitted with a high-contrast OLED screen, ensuring consistent visibility of import settings indoors and outside.
Transmitter Screen: real-time input metering, input-gain level, mute icon, wireless strength, battery life.
Receiver screen: battery life, mono/stereo icon, and headphone level, plus transmitter's real-time level meter, mute icon, battery life, and wireless-connection strength.
Lightweight, ultracompact housings
Receiver's built-in clip with shoe mount allows easy attachment to your camera, belt, or clothing
Internal 10-hour lithium-ion batteries keep you going on extralong shoots or multiple run-and-gun gigs in a day
USB-C connectivity on the receiver and transmitters for battery recharging
TX and RX can also be powered via USB, even while in use, giving you near unlimited operating time
USB-C port on charging case for simple power connection 
Use up to two transmitters with each receiver
Operate up to 18 microphones simultaneously in the same environment
Includes gold-plated 3.5mm TRS cable for connection to a camera or camcorder