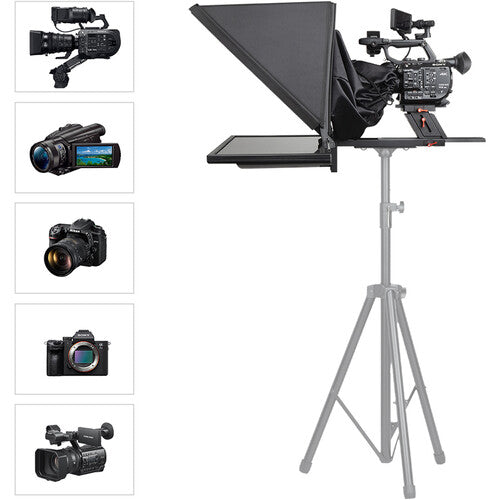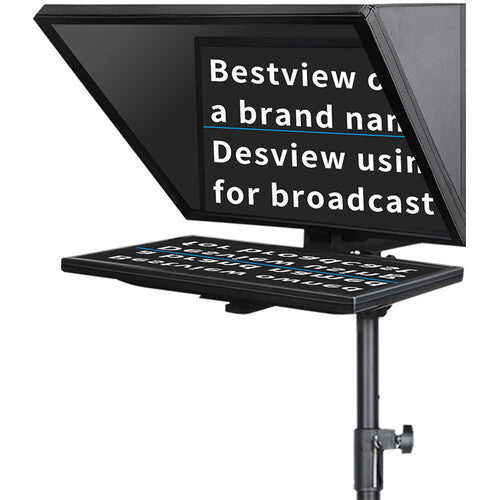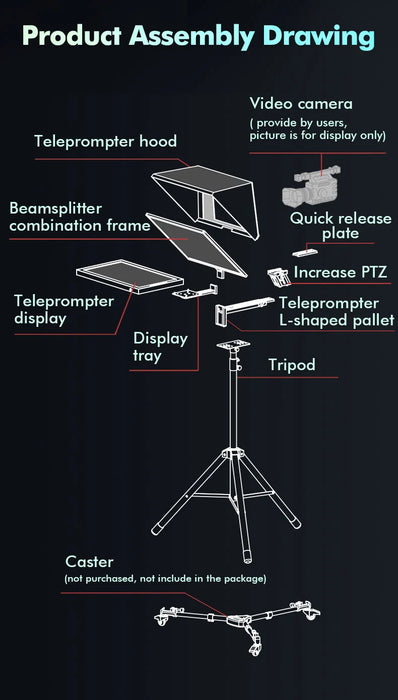 Desview T22 Teleprompter Set with 21.5" Self-Reversing Monitor
by shuttermaster.com.ph
Key Features:
70/30 Beamsplitter Glass
21.5" Self-Reversing Monitor
1920 x 1080 Resolution
Height-Adjustable PTZ Mount
HDMI, AV, BNC, VGA, USB Type-A Inputs
Remote, Foot Pedal, and App Control
Supports Windows Operating Systems
Teleprompter Hood, Video Cables
Optical Beam Splitting Mirror For HD Display
Patented PTZ design
Support Windows10/11 system
Newly Developed prompting software
Mutiple Teleprompter Controls
Suitable For Professional Camera Equipment
Record professional scripted presentations or broadcast video with this T22 Teleprompter Set from Desview thanks to its 21.5" monitor and 70/30 beamsplitter glass. The 1920 x 1080 monitor is self-reversing and reflects onto ultra-clear optical glass, ensuring legibility of your transcript. An included PTZ mount allows you adjust the height of the teleprompter to suit DSLR cameras, camcorders, and cinema cameras. Composite AV, VGA, USB Type-A, BNC, and HDMI inputs provide a wide range of connectivity.
Legibility is further improved by the teleprompter app, which allows you to adjust the font size, color, and background to best suit your talent. A Bluetooth remote control and foot pedal offer different forms of control of your text speed from up to 32.8' away. The monitor and app support Windows operating systems up to Windows 11. Included with the set are all the mounting tools you need to assemble your teleprompter as well as additional accessories like a teleprompter hood and carrying case.
Teleprompter hood prevents light from hitting the monitor and glass for a clearer image
Patented PTZ mount has a tilt angle of 60° and can be adjusted up to 1.6" tall to improve the viewing angle
Wireless remote control with Bluetooth connection can pause, play, accelerate speed from up to 32.8' away
Food pedal with USB Type-A connection to pause and play script
Compatible with Word, TXT, and PDF file formats
Supports English, Spanish, and Chinese
Adjust font size, color, and background to optimize reading experience
Note: Stand not included