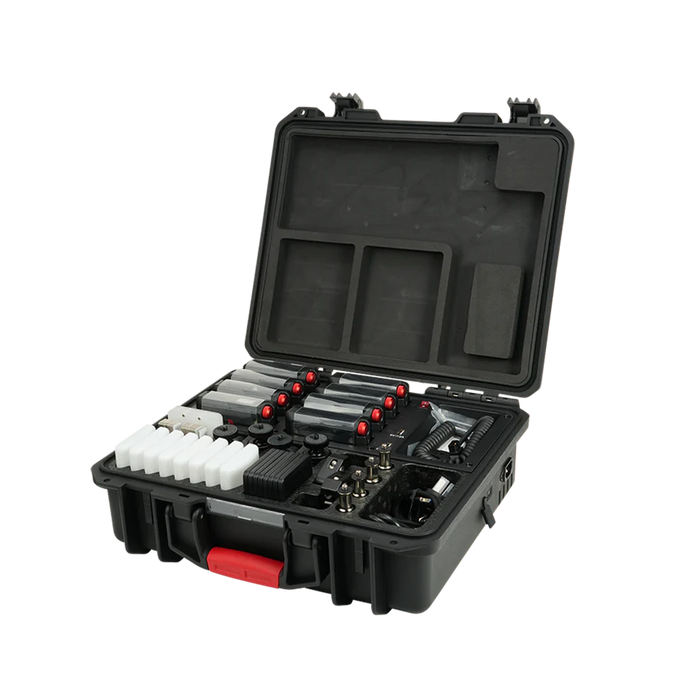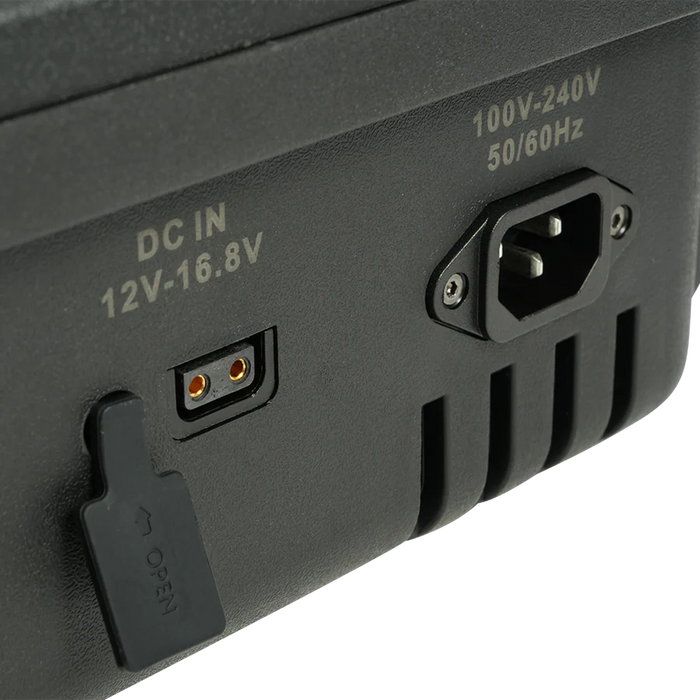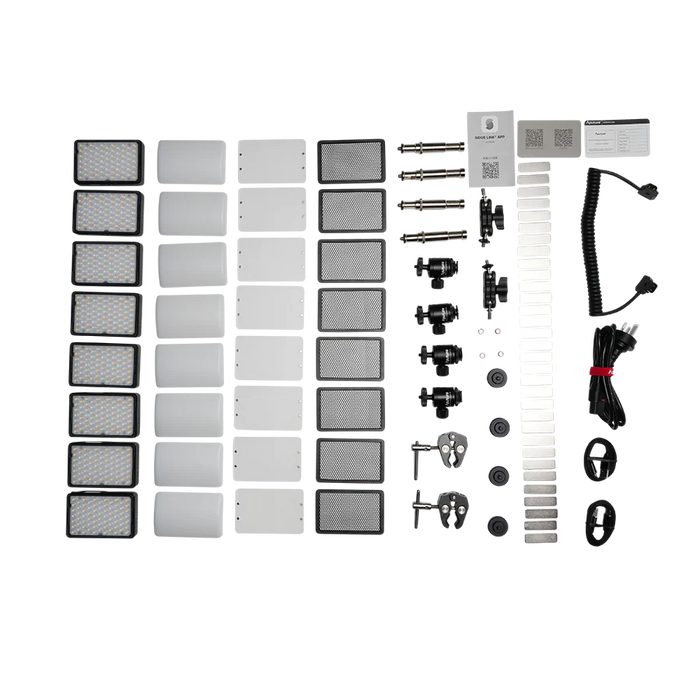 Aputure MC Pro RGB LED Light Panel (Production 8-Light Kit)
by shuttermaster.com.ph
Key Features:
8x MC Pro RGBWW with Charging Case
Output: 396 Lux at 3.3' per Light
2000-10,000K CCT; RGB Color Control
4.2 x 2.7" Panel; 2-Hour Runtime Battery
CRI 96 | TLCI 96 | CQS 95 | TM-30 Rf 94
Onboard, DMX/RDM, CRMX & App Control
Tighter 45° Beam Angle
0-100% Dimming, 15 Special Effects
1/4"-20 & Magnetic Mounting, IP65-Rated
Includes Mounting Accessories & Cables
8x MC Pro RGBWW Lensed Mini LED Panels for Professionals
Stores & Charges 8x MC Pro Lights via AC or D-Tap Power
Multi-Light Charging: Drop-In Design to Charge via Integrated Contact Pins for Seamless Workflow
2x USB 5V/2A Charging Ports to Charge Up to 10 Fixtures Total
For Professionals: LumenRadio CRMX Controls & Durable IP65 Weatherproof Design
Designed for filmmakers and creators in need of advanced control, the MC Pro Production 8-Light Kit from Aputure offers expanded connectivity options, an IP65 rating, and RGBWW capability, while providing eight lights in a sturdy charging case to cover your entire scene. The kit is packed with a vast number of mounting accessories and magnetic modifiers for more possibilities to adapt and rig an array of MC Pros. This Pro version utilizes a similar compact, pocket-sized form factor to the brand's original MC fixture while bringing professional functionalities. With an upgraded optical design and LED chipset, the MC Pro has an impressive color temperature range from 2000 to 10,000K and a tighter beam spread of 45° for increased intensity. Each multifunction light allows you to add color to your productions and can be used for in-camera practical effects or as a portable fill or accent light. You can control it onboard with a TFT color display, remotely using the Sidus Link app, or via advanced wired and wireless methods, including DMX/RDM and LumenRadio CRMX.
With a rugged construction and a practical design, each 4.2 x 2.7" fixture is rated IP65 for weather resistance, so you can safely use it outdoors or in wet weather. The MC Pro's USB-rechargeable battery lasts up to two hours at maximum output and quickly recharges in 90 minutes via its USB-C port. With a drop-in design, the supplied charging case holds the eight MC Pro fixtures and can be used to charge the lights using the included AC power or D-Tap cables. These 5W mini panels can be placed and operated virtually anywhere or hidden in small spaces. They attach to various metal objects via their built-in magnets. Additionally, each light has a 1/4"-20 thread that allows you to utilize other mounting gear, such as the four included cold shoe ball heads, to mount the light directly on your camera, cage, or other rigs. The 17 x 15" hard-shell case can conveniently store, charge, and transport your entire light kit.
Expanded Color Control, CCT Range, and Output
Wide and variable color temperature range of 2000 to 10,000K with green/magenta adjustability
Outputs up to 396 lux at 3.3' per light (5600K)
0 to 100% stepless brightness control
Reproduces up to 90% of all colors within the Rec. 2020 color gamut
High CRI/TLCI scores of 96 ensure faithful skin tones
Accurate and consistent color reproduction with CQS of 95, SSI (D56) of 72, SSI (Tungsten) of 82, TM-30 Rf of 94, and TM-30 Rg of 103
Advanced HSI with white-point CCT adjustability, RGB, GEL, and XY modes
The MC Pro provides extended control methods for seamless operation in the most demanding conditions.
The Sidus Link app from your mobile device controls the light via Bluetooth from up to 262' away
Wired DMX/RDM using the separately available Aputure's Active USB-C to 5-Pin DMX Adapter
LumenRadio CRMX wireless range from up to 328' away
Built-In Special Effects and Unique FX Modes
Select from 15 preset special effects to creatively enhance your shots. The MC Pro includes a larger number of creative lighting simulations, including fireworks, fire, paparazzi, faulty bulb, TV, pulsing, cop car, lightning, party lights, welding, color chase, candle, strobe, explosion, and club lights.
Unique lighting modes such as Manual FX, System FX, Picker FX, Magic Program, and Music FX
You can save and quickly access up to 10 Custom FX and 10 Music FX using the Sidus Link app
Magnetic Mounting and Portability
Giving you flexible mounting possibilities, each MC Pro features a 1/4"-20 receiver as well as powerful rear-mounted magnets for attaching to metal surfaces. You can mount this lightweight 8.7 oz light in various setups, which makes it a convenient and portable lighting solution.
Using its 1/4"-20 screw mount, the light can be easily attached to the four included cold shoe ball heads
Includes magnetic accessories such as eight flat diffusers, dome diffusers, and 30° grids to control the light dispersion
Includes two 1/4"-20 articulating arm-to-clamp adapters and four 1/4"-20 screw-to-baby pin adapters