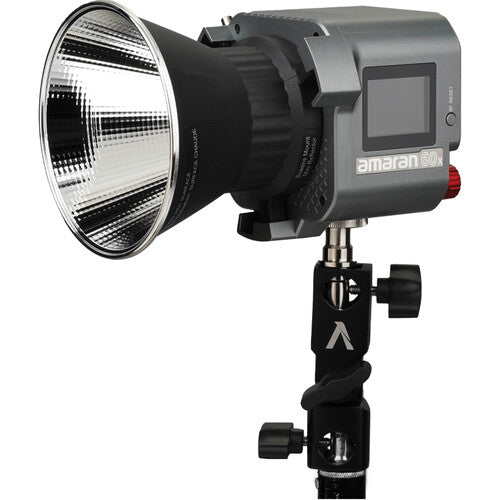 Aputure Amaran COB 60x Video Light
by shuttermaster.com,ph
65W Output Bi-Color Bowens-Mount LED
2700-6500K Color Temperature
Ultra Compact
0-100% Dimming
9 Built-In Special Effects
Sidus Link App Control
Flexibility and control are key to the design of the amaran COB 60x Video Light. The ultra-compact fixture measures just 4.6 x 4.4 x 4.4" and offers an expansive color temperature of 2700 to 6500K with an impressive CRI rating of 96. The light is dimmable from 0 to 100% without flicker or color shift and features nine built-in special effects. Adjustments can be made locally on the unit or wirelessly from a distance with your smartphone and the Sidus Link app. The 60x is ready for worldwide use thanks to its 100 to 240 VAC power supply, but it can also run on NP-F or D-tap batteries when AC power is unavailable.
On the Move
The amaran COB 60x is an ultra-compact bi-color LED video light with surprising output and full Bowens-mount versatility. It is the latest point-source LED video light from the amaran COB series, featuring a 65W daylight output.
Powerful Output
Using cutting-edge LED technology, the amaran COB 60x uses its 65W COB LED, with a max power draw of 76W, to output a staggering 37,775 lux at 1 meter with the specially designed Hyper Reflector Mini (15°). Inside its compact form factor lies the ability to compete with difficult lighting conditions to make your subject shine. It also features 0 to 100% dimming control to ensure that you can always find the right level of illumination for your scene.
Beautiful Color Fidelity
Many do not realize that light affects the very colors that we see. Bad light can bring nasty green or magenta hues that make your subject look sick. On the flip side, great lighting has the power to bring out the most brilliant colors found in nature. Scoring a 96+ (out of 100) on the Television Lighting Consistency Index, the amaran light series guarantees that you see beautiful colors on every shoot.
Compact Design
The 60x is as compact as a camera, weighing in at just 1.49 lb and measuring just 4.6 x 4.4 x 4.4". The amaran COB 60x is easily smaller than most of the modifiers you'll add to the light, and its size and weight make it incredibly easy to hide or rig in a variety of locations
Universal Accessory Mount
The amaran 60x integrates a full-size Bowens mount into its compact form factor, meaning that it can be easily transformed into a hard or soft light. The amaran 60x's accessory mount is compatible with a wide variety of Bowens-mount soft light modifiers, including the Aputure Light Dome SE, Light Dome Mini II, and Lantern. In addition to the Bowens mount, the amaran 60x's stand adapter also has an umbrella holder for even faster speed and softness
Lighting FX
The amaran 60x launches with 9 built-in lighting FX including paparazzi, fireworks, lightning, faulty bulb, TV, pulsing, strobe, and explosion, opening up new possibilities for precise lighting control.
Sidus Link App Control
Lighting should be fun and easy. With the integration of Sidus Mesh, the amaran COB 60x gives you professional lighting control with a single app, so you can adjust your light without ever having to leave your camera. Mesh technology means that every light in the Aputure and amaran product lines will automatically connect to each other and expand the range of your network. With the Sidus Link App, you can control up to 100 lights from your smartphone or tablet. Adjust each light to perfection by adjusting aspects like brightness, color temperature, built-in effects, and even programming effects between multiple fixtures.