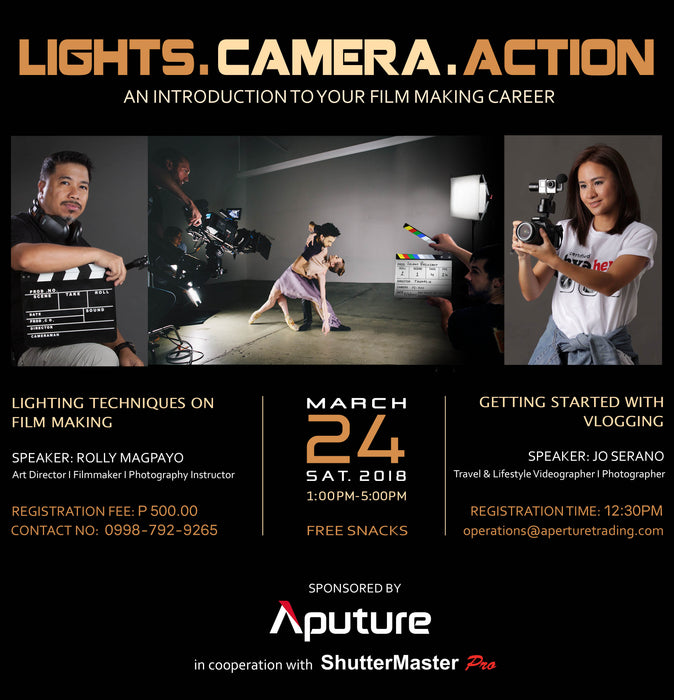 Lights . Camera. Action Introduction to your Film Making Career - Sponsored by Aputure
by shuttermaster.com.ph
We are holding a workshop for the aspiring filmmakers and content creators in conjunction with Aputure. Swing by for an educational afternoon with Rolly Magpayo and Jo Serano and find out how they integrate Aputure products into their workflow.

You can also expect to check out the award-winning 300D, Tri-8c, VS-5x, Deity mic. This is your opportunity to check out Aputure prototypes which are not out on the market yet. Light refreshments will be served at the event. 

Speaker:  Sir Rolly Magpayo.
Topic: Learn basic lighting techniques on Film Making.
• Lighting Direction / Position
• Quality of Light
• Quantity of Light
• Color/ Temperature
• Basic 3-Light Setup
• How I Light my Scenes
Speaker: Ms. Jo Serrano, 
Topic: Travel and lifestyle Videographer/ Photographer
Join us as she shares her experience as a vlogger.
Learn the process in making a video, vlogging gears you need, finding your vlog style and how to stand out as a video content creator.
So make a date to come on 24th March, gathering your filmmaking buddies! The A-team awaits your presence.
Register now at 0998-792-9265, 376-9845 or email us at operations@aperturetrading.com