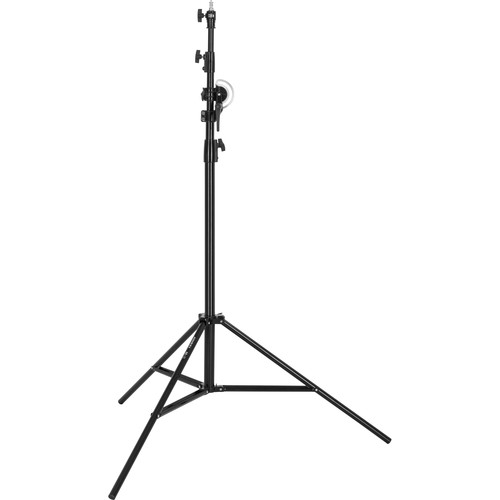 Jinbei M-1 Professional Galgenstativ Rotatable Aluminum Lamp Tripod
by shuttermaster.com.ph
Load Capacity at Max Extension: 17.6 lb / 8kg
Load Capacity Arm: 8.8 lb / 4kg
Boom Arm Extends to Just under 7'
Reversible Spigot 1/4"-20 to 3/8"-16 Adapter
Solid workmanship made of sturdy aluminum
Resistant aluminum construction
Screw caps for secure locking
Counter-weight bag included
Height: 132 cm - 395 cm

Boom Arm Length: 210 cm

Can be collapsed to be a regular light stand
That Jinbei M-1 boom stand made of aluminum is characterized by its versatility, robustness and high quality workmanship. That Studio tripod made of durable and resilient aluminum With its large radius of action, it adapts flexibly to all requirements on the set.
A special highlight: the M-1 tripod offers three tripods in one. It can be described as a Lamp tripod , as simple Camera tripod or as Boom stand insert. It shows its strengths especially in portrait, beauty, fashion or product photography.

In his role as Lamp tripod offers it over the changeable 5/8 inch spigot adapter With 3/8 and 1/4 inch external thread, many alternatives for attaching light sources, flash holders, umbrella tilters or hot shoe adapters for clip-on / system flash units. To the Camera tripod it will be with a smaller one, for example Ball head .

The center column of the tripod is between 135 and 395 centimeters adjustable. The individual sections are locked by means of screw fasteners.

The lamp tripod becomes a Boom stand when you pull the upper section out of the stand segment below and use the boom joint as Gallows arm to the side. With the boom stand you can realize a wide variety of things Lighting variants without the tripod getting in the way. Light from the side, diagonally or directly from the front, from high above or very below near the floor, with the extension arm that can be tilted up and down, you can quickly position the studio flash, flash head or permanent light in all positions.
The resilient Aluminum construction with central struts ensures stability under load and lasts up to eight kilograms weight . The supplied one is used to compensate for the attached load Sandbag , which you fill individually and attach to the end of the boom arm for optimal balance.

With the separately available Jinbei JB11-036 tripod roll set becomes a from the M-1 boom stand Mobile stand that can be conveniently moved to the desired position in the studio or on location.