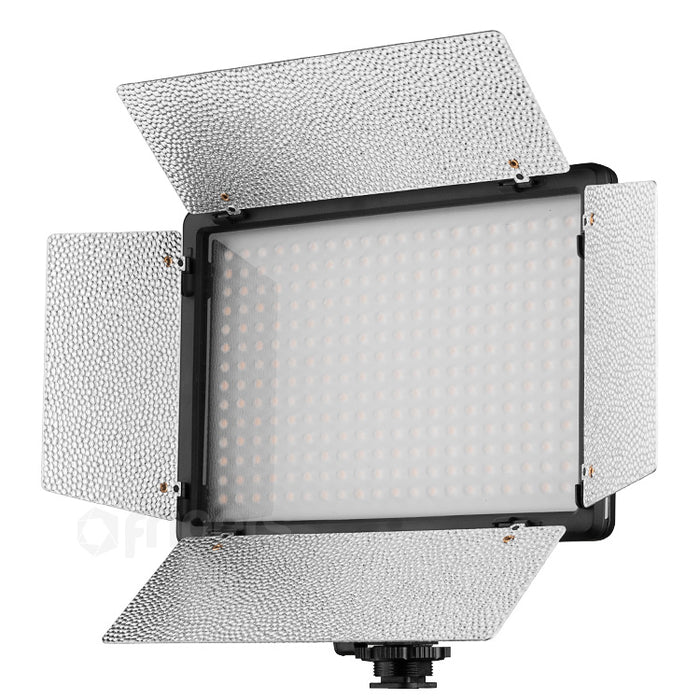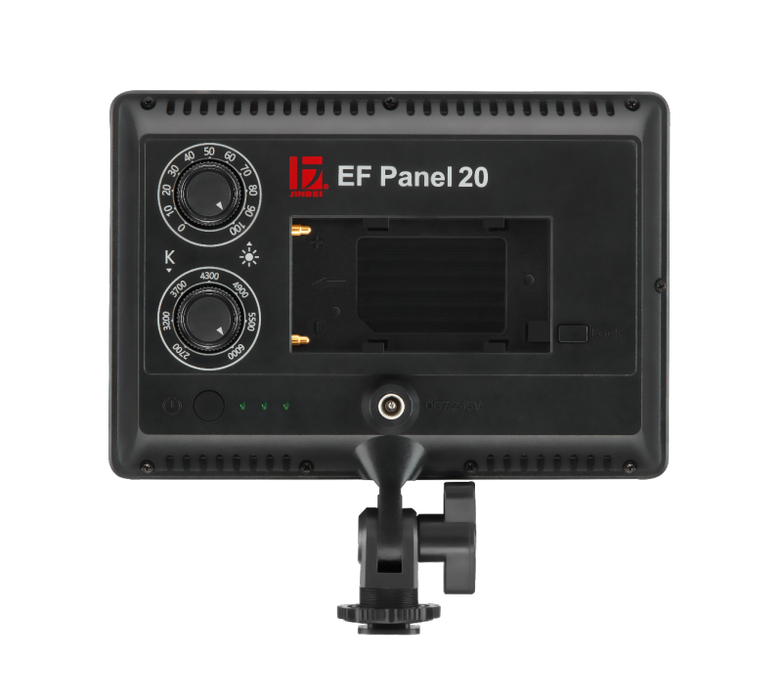 Jinbei EF-20 BiColor LED Panel
by shuttermaster.com.ph
Product Highlights:
Power supply from the mains or battery

Ideal for use in the studio and on the go

High color accuracy for photographers and filmmakers 

 

(CRI> 95, TLCI> 98)

Illuminance of more than 5,400 lx to 0.5 m

No annoying flash

Flicker-free light characteristic is ideal for video recordings

Constant control over the illumination

Variable brightness and color temperature

Parameter setting via rotary control

Large viewing angle and high irradiance

Low power consumption, constant color temperature, long life

Power Supply: 20W

Dimming: 10%-100%

Color Temperature: 2700K-6000K

Voltage: DC 7.2V-15V

Dimensions: 170(L) x 150(W) x 38(H) mm

Weight: 280g

With included AC Power Adapter
With the  Jinbei EF-20 BiColor LED Panel Jinbei offers a compact LED continuous light with interesting highlights. First and foremost are the large, softly illuminatable area at an angle of more than 120 ° and the  dual power supply  from the mains or the battery, which enables extremely flexible working in the studio or on location. In addition, a  high color accuracy  for perfect photo and video recordings and individually adjustable lighting parameters. 
Almost limitless photography and filming
The outstanding technical feature of the EF-20 BiColor LED Panel is that it can be powered by both  the mains and a battery  . If long-time photo shoots or video sessions are in the studio, you can work without interruption with electricity from the socket. When shooting outside the studio, you're mobile, independent, and always ready to go with the powerful lithium battery.
High color accuracy for photographers and filmmakers
For photographers and filmmakers, the color accuracy of a light source is extremely important. As a measure of the true  color rendering index  (color rendering index CRi)  for photographers and the  Television Lighting Consistency Index  (TLCI) for videographers . These indices provide information about the quality of the displayed colors. Based on sunlight with a CRi or TLCI of 100, the Jinbei EF-20 BiColor LED Panel with a  CRi over 95 and a TLCI of over 98 offers the  best possible conditions for a  natural and true-to-life color reproduction .
LED permanent light with many advantages
The most modern  LED continuous lighting technology offers many advantages during photography and filming. For children, portraits, fashion or animal photography  relaxed work  with your model - without disturbing lightning - in the foreground. Constant  control over the planned illumination  is another positive aspect of the continuous lighting technology. This will benefit you in many photographic tasks, for example in product and food photography. Videographers appreciate the flicker-free characteristics of the LED light for their shoot  .
Variable brightness and color temperature, low heat generation, reduced power consumption
With adjustable brightness and a variable color temperature of 2700 to 6000 Kelvin you can easily set the desired light on your EF-20 and it offers you at any time reproducible recordings. You set the desired light parameters  with rotary controls  on the back of the device. You can use the EF-20 to illuminate an area at an angle of more than 120 °, reaching a brightness of over 5400 lux at a distance of half a meter.
In addition, the LED continuous light convinces with its lower heat generation and its reduced power consumption  (up to 90 percent less than an equivalent halogen light  ). Add to that the long, environmentally friendly life.