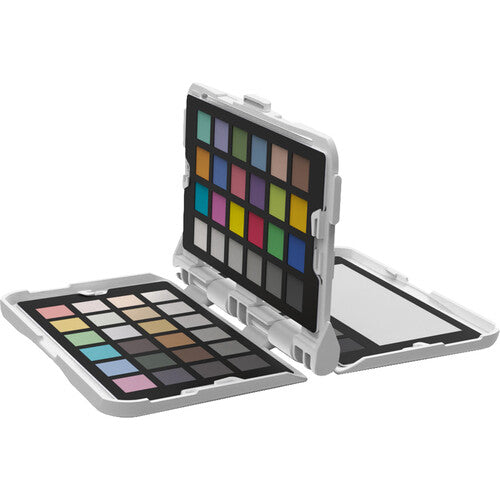 Datacolor Spyder Checkr Photo Color Chart
by shuttermaster.com.ph
4 Interchangeable Cards
62 Color Targets
Ultra-Matte Finish
Sturdy Museum-Quality Construction
Integrates with 3rd Party Software
Portable Size Case
Datacolor SpyderCHECKR
 

Overview
Ensure accurate and consistent color from the first shot till the last with the Spyder Checkr Photo Color Chart from Datacolor. Designed to ensure color consistency across a variety of cameras, lenses, and sensor combinations, this system provides you with four interchangeable cards and 62 color targets. A software download link is also provided, which automatically color corrects your images and creates an HSL preset for you to use with raw editing software such as Adobe Photoshop, Adobe Lightroom, and Hasselblad Phocus. This enables fast and seamless color correction, plus precise in-camera white balance allowing you to streamline your post-production workflow by calibrating color at the point of image capture.
Affordable, portable size case with cards make it easy to keep the color chart in your camera bag or in your pocket.
Rigid outer casing and unique, sturdy card construction offers superior product protection for on-the-go/on-location shoots.
Four interchangeable cards featuring a robust 62 color targets.
Expanded skin tone offering makes the color checker ideal for portraiture.
Expanded gray scale and large gray balance targets allow for greater depth and detail in images.
Ultra-matte finish on long-lasting, ink-printed, museum-quality paper cards allows for the truest color renditions and deepest black.
Cards are made from 78% bamboo, a renewable resource for paper.
Easy to replace and add new cards as color offerings expand for truly customizable solutions.
Seamlessly integrates with 3rd party software such as Adobe Photoshop, Adobe Lightroom, and Hasselblad Phocus.
Landscape/travel photography: more detail and optimal raw process in batch processing.
Wedding/event photography: match multiple camera systems.
Fashion photography: colors in print correspond to the original colors.
Portraits: natural looking skin tones.
Architectural photography: precise color reproduction.
Studio/product photography: exact matches for product and brand colors.
Event Photography: align multiple camera systems including DSLR, smartphones, drones, action cams, etc.