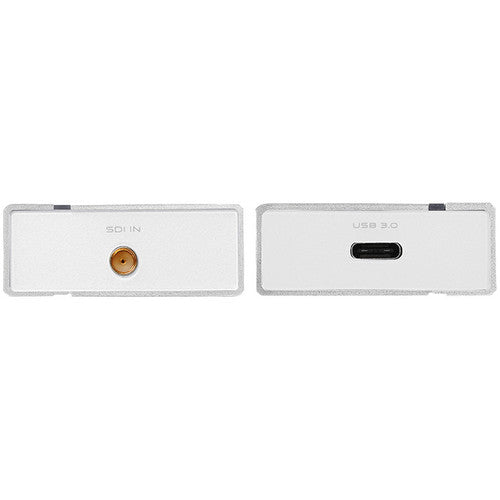 AVerMedia BU111 ExtremeCap SDI to USB 3.0
by shuttermaster.com.ph
Product Highlights
Convert SDI Video to USB 3.0 (backward-compatible with USB 2.0)
Support for up to 1080p60 Resolution and outputs in MJPEG, YUY2
Windows, Mac, Linux Support
No Compression, Plug-and-Play
HDMI embedded audio support at 48 kHz PCM
Hardware-based color space and sampling conversion
Bus-powered from the USB port
Compatible with Windows, Mac, Linux
Works with third-party streaming software like OBS, Wirecast, XSplit, and Adobe Flash Media Live Encoder
Inclusions:

AVerMedia ExtremeCap BU111
SDI to MCX Cable
USB Type-A to Type-C Cable
USB Type-C to Type-C Cable
The AVerMedia ExtremeCap SDI is a plug-and-play SDI to USB converter that lets you send an SDI camera signal to your computer for capturing, recording, and/or live streaming. Connect your camera to a Windows, Mac, or Linux computer using included cables and stream uncompressed 1080p60 video via various popular streaming applications such as OBS, Wirecast, XSplit, and Adobe Flash Media Live Encoder.
ExtremeCap SDI allows for internal upscaling and color space conversion, which can be managed in the included (free download) AVerMedia Recentral capture, scaling, and recording software for Windows, or via 3rd-party capture applications. Most streaming applications, including some free ones, already provide a capture feature with scaling control.
ExtremeCap SDI is designed compact for mobility and works plug-and-play without any driver installation required. For PiP display, multiple units can be connected to your computer at the same time. For connecting your SDI signal, the device offers an MCX input and includes an MCX to SDI converter cable.
Key Features

Connect an SDI camera signal to your Windows, Mac, or Linux computer
Capture, record, and live stream up to uncompressed 1080p60 video via popular streaming applications
Internal upscaling and color space conversion
Connect multiple units for PiP display