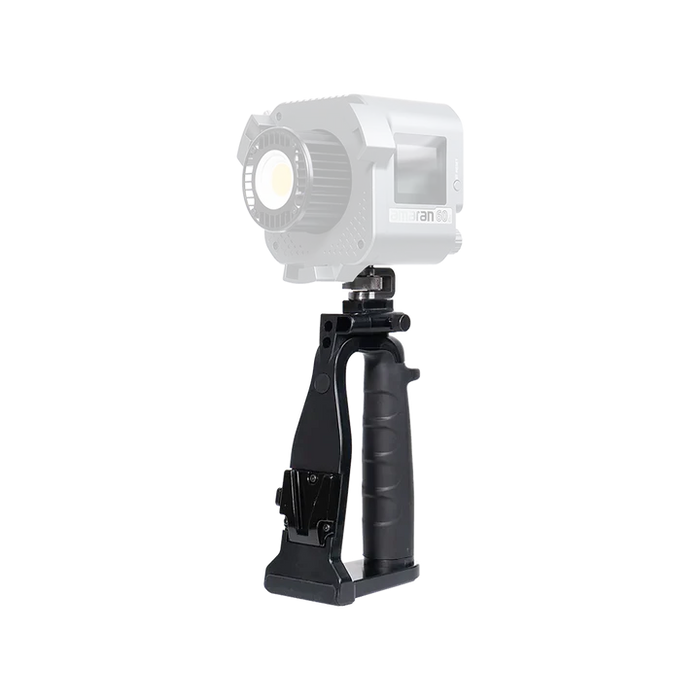 Aputure Handheld Bracket for Amaran COB 60 Series (60D/60X)
by shuttermaster.com.ph
Key Features:
Handheld Grip for Amaran COB 60 Series
Comfortable Ergonomic Design
Compatible with V-Mount Batteries & NP-F Battery Plate
1/4"-20 Threaded Tip, V-Mount Plate
Heavy-Duty ABS Plastic Construction
Lightweight Construction (0.3kg / 0.66lbs)
Perfect for On-the-Go Lighting
The 
Amaran COB 60 Series LED Monolight Handheld Bracket
 from 
Aputure
has style and an ergonomic design. It is a convenient and comfortable way to handhold your COB 60-Series LED during long shoots. This portable and stable grip is made from high-strength ABS material and metal. It features a 1/4"-20 threaded tip, an umbrella shaft receiver with locking screw, and a V-mount plate for attaching a battery pack.


The Handheld Bracket is a mobile battery handle designed for the amaran COB series and is perfect for on-the-go lighting, whether you are constantly on the move for mobile or run-and-gun content creation or shooting in tight spaces.
Intuitive mounting options. With a 1/4-20-inch screw and locating pins designed specifically for the amaran COB 60 series, either the 60d or 60x can easily be mounted onto the Handheld Bracket, bringing smooth movement and maximum versatility for all forms of content creation.*
Power anywhere. For additional freedom from household power, users can attach V-Mount batteries** or the amaran NP-F Battery Plate via the V-Mount Quick Release, providing creators with a portable and flexible solution to shoot in any environment.
* Users must use a compatible D-Tap to 5.55mm DC Barrel Power Cable to power the COB 60 Lights using V-Mount Batteries.