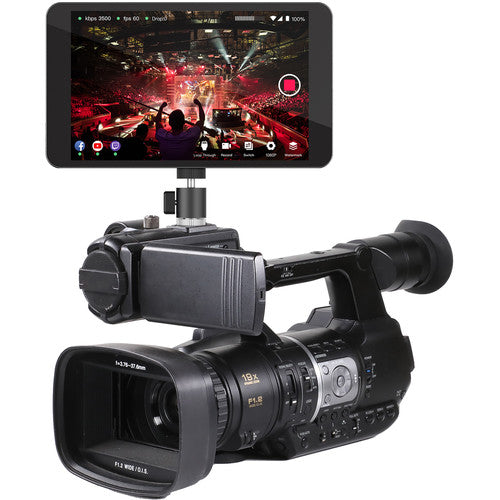 YoloLiv YoloBox Portable All-in-One Multi-Camera Live Streaming Encoder, Switcher, Monitor, and Recorder
by shuttermaster.com.ph
Product Highlights
Touchscreen Control Streaming Encoder
Simultaneous Cross-Platform Streaming
Encoder, Monitor, Switcher, and Recorder
Live Switch from up to 6 Sources
2 x HDMI, 1 x USB In; 1 x SD Card Input
1 x HDMI Confidence Monitor Out
Stream via Ethernet, Wi-Fi, LTE
Supports 1080p and 720p Resolutions
H.264 Streaming Format
Connect to YouTube via Custom RTMP
Wireless
Wi-Fi: 2.4/5 GHz
Cellular
SIM Card Slots: 1 x Mini SIM
4G LTE: LTE: 2, 4, 5, 7, 12, 13, 17, 25, 26, 41 Bands
Interfaces
Video Connectors:
2 x HDMI Input
1 x HDMI Output
Audio Connectors:
1 x 1/8" / 3.5 mm TRRS Headphone/Microphone Input
1 x 1/8" / 3.5 mm TRRS Headphone/Microphone Output
Other I/O:
1 x RJ45 Input/Output
Internal Recording
Recording Media: 1 x SD (Unspecified Type)
Power
Built-In Battery: 5700 mAh
Power Connector: 1 x USB Type-C Input
Sporting an LCD touchscreen for control, the 
YoloLIV YoloBox Portable All-in-One Multi-Camera Live Streaming Encoder, Switcher, Monitor, and Recorder
 can simultaneously broadcast to 3 platforms. Simply connect up to 6 video sources, then connect to a local area network via Wi-Fi, Ethernet, or LTE (LTE connection requires SIM card and data plan not included). The large touchscreen display shows the streaming image as well as the input streams; the LCD display also shows the control interface, which allows you to switch between the info sources with a touch.
The YoloBox supports input resolutions of 720p and 1080i/p, and streams at your choice of 540p, 720p, and 1080p60, using the H.264 codec. You can stream to YouTube via custom RTMP settings. Stream using a 4G Cellular network such as Verizon, T-Mobile, and AT&T. The YoloBox features an HDMI out, which allows you to display your stream locally on an HDMI device. It also has a line-level audio input, and a discrete headphone audio out. You can record your stream directly in the .mp4 format to an optional SD card, up to 128 GB in size, using the built-in SD card slot.